From Jivox CEO: Our Response to COVID-19
Identity & Personalization in a Post-Cookie World
Creative Production Efficiency
and Cost Savings

Here's how large global brands adopt automation tools and develop new ways of working in their creative production process to achieve efficiency and scale.
Personalization at Scale

"[Jivox] client reference noted that it had generated 350,000 assets through the vendor in the past year in 22 languages, across countries and regions, and with a dozen-plus products."

The Forrester Wave™:
Creative Advertising Technologies, Q4 2018
Proven to Boost Engagement by 4x

Trends and Insights in the New Omni-channel Marketing Benchmark.

Real-Time Personalization for the Enterprise
Jivox IQ is the leading enterprise platform that enables global brands to deliver personalized digital advertising and marketing experiences to millions of consumers. The timing, channel, and messages of the ads are so spot on that your customers can't help but engage with you. Here's how it works.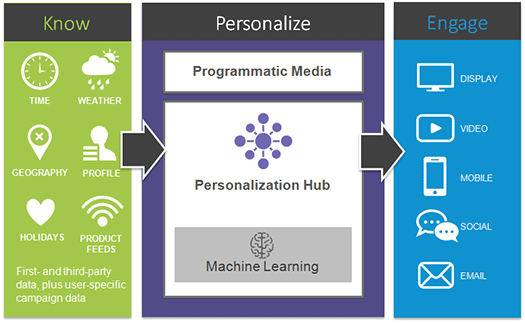 Jivox IQ knows your customers' preferences and purchase intents, what makes them loyal, and the contextual and environmental data that surrounds them. This big data is the power behind Jivox's hyper personalization.
Jivox IQ's Personalization Hub, the core of the platform, integrates proprietary, audience, contextual and campaign data in real time with thousands of creative and messaging variations to create millions of personalized digital ads in milliseconds.
Every ad created is customized to an individual and delivered programmatically, in all formats and across all channels. The personalized ads, videos and email are lightweight and rendered on the fly.
"To be truly personalized with content, you must understand not only who you're targeting, but also the setting that they're in and the signals they've shared or relationship/conversation they're developing with your brand."
Get Results With Personalization